Me
My name is Cariad Heather Keigher and I live in the unceded territories of the Sḵwx̱wú7mesh (Squamish), Stó:lō (Stolo), Səl̓ílwətaʔ/Selilwitulh (Tsleil-Waututh), and xʷməθkʷəy̓əm (Musqueam) first nations, otherwise known as Vancouver, British Columbia in Canada. My pronouns are "she" and "her", and I am of Irish ancestory, holding citizenship in both Canada and Ireland.

Often I go by "Cari" amongst my friends and family, although "Cariad" is fine. I use the handle "KateLibC" on the Internet, leading to some people calling me "Kate" which is fine too! The handle's origins is a play on the name "Kate Libby", a character from the movie, Hackers. B was the language that preceded the C programming language and being that she was a hacker this became a silly joke I have kept as a name.

My life's work is centred around cyber security, with the past decade focused on supporting digital forensics and incident response (DFIR). I'm skilled in log collection through the use of SIEMs, detective control systems, and automation. Much of my most recent work has involved industrial control, but in the past I've been a consultant for various companies in different sectors and have worked for a vendor, working with different sectors there as well. My work has resulted in me speaking at a number of conferences and corporations, and appearing in various publications.

Outside of my day-to-day work, I have an interest in video games, roller skating, camping, vegetarian cooking, and gardening. I'm part of the LGBTQ+ community (I am a lesbian and refer to myself as a "queer woman") and am passionate about promoting equal rights for all persons.
My corporeal self
I really like to put a face to a name and as a result I am not adverse to photos of me being out there on the Internet.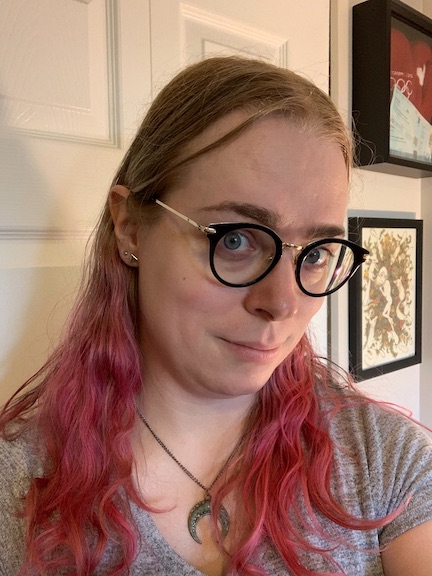 Selfies have been a huge form of self-liberation and it has gotten me through some difficult times when grappling with my own self-image. It's not a panacea for all of my ills, but it definitely has helped me build a better relationship with my physical image.
Engagements
I make it a point to be part of the community within the cyber security field. I've found myself published in various publications throughout my career and I've been part of many security conferences both as a speaker, an organizer, and as an attendee. Besides what is listed before, I've been to many SANS events, vendor conferences, DEFCON, and DefendCon to name a few.
Hackers on Planet Earth (HOPE)
New York, NY
July 2010, Speaker
BSides Vancouver 2013
Vancouver, BC
March 2013, Speaker
BSides Vancouver 2014
Vancouver, BC
March 2014, Speaker & Organizer
BSides Vancouver 2015
Vancouver, BC
March 2015, Speaker & Organizer
BSides Vancouver 2016
Vancouver, BC
March 2016, Organizer
Facebook Security Summit
Palo Alto, CA
April 2016, Speaker
BSides Vancouver 2018
Vancouver, BC
March 2018, Speaker
I've also spoken at and organized local security events outside of the above. I'm an advocate for other women in cyber security and am open to being a mentor to those who want to enter or are new to the field.
Log collection
Want to know the best method for helping safeguard your network in the event of compromise? It's logging anything and everything that you have in your environment. This will assist heavily during digital forensics and incident response (DFIR) tasks.

Logging is by far the first thing you should do after you've implemented any network device, be it for security or just general traffic. Anything that generates a log file should somehow make those details go to a central source and there are many off-the-shelf, open-source applications for collecting vital data.

I practice "log collection agnosticism", meaning that I don't care about what I use as the final data destination, but I do care about ensuring that the log collection is done using "native protocols" as much as possible. This may include using syslog-ng for collecting syslog traffic and NXlog for anything involving flat files.

Everybody's network is different but the fundamentals of collecting logs are more or less the same.
Travel
In the past decade, I've found myself travelling and appreciating the world. While there are consequences to this activity, it has opened me up to new cultures and experiences that I otherwise would have not had if I stayed in my bubble here in Vancouver. I exercise this privilege knowing that there are so many who will never have the luxury I've had.

My favourite city in the world is New York City and my favourite country is Belgium. I've spent more time in New York City than anywhere else on this planet outside of Vancouver and Seattle with the latter just being a consequence of being nearby and having friends and relationships there. I love Belgium for its history and scenery but am overdue for a revisit.

I do have a least-favourite city but I won't be sharing that detail here! I will however openly state that Las Vegas is my least favourite city in North America and often my opinion on this one doesn't really cause any controversies.

I've travelled all across Canada and the United States, visited Iceland, Belgium, the Netherlands, the United Kingdom (including England and Northern Ireland), Ireland, Luxembourg, France, Monaco, Romania, Cuba, Panama, and Peru. I've been as high up as 3,800 metres in the Peruvian Andes and I am certain that my time in the Netherlands somewhere had me below sea level.

I've been to every Canadian province excluding New Brunswick, Prince Edward Island, and Newfoundland and Labrador; I've not been to any Canadian territory. My favourite Canadian city is Toronto, which is weird considering that anyone like me who was born in Vancouver often laments the place.
Roller skating
I love my roller skates and at one point I had an interest in roller derby. Due to an injury that had caused some significant tissue damage in my hip, I decided to not go beyond casual skates outdoors or at roller rinks.
Computing
I've been using computers since I was a very young child when my grandmother put me in front of her IBM PC and made me learn how to use it; I wrote about her a few years ago. Often, I describe my youth as "misspent", but it did lead to the career I have today in cyber security.

My first computer was a Commodore 64 but eventually I had an IBM PC of my own. Since my youth, I've used a mix of PCs and Macintosh computers, with my current environment being primarily macOS.

My favourite computer of all time is the Macintosh Quadra 800, which I still own and have modified with plenty of RAM and an SD card for storage; it still has its original 68040 processor however. It presently runs A/UX 3.0.1, which was Apple's first *NIX operating system.

I also make crypto puzzles from time to time!
Programming
While I have written in various programming languages such as Perl, PHP, C, and BASIC, the language I usually fall back on using is Python. It's relatively simple and has ample support.
Retro gaming
I am a huge fan of retro gaming and have maintained a collection of consoles for most of my life. Some of them came from my childhood, but the majority have been over the past decade.

With exception to the Virtual Boy, I can lay claim to having every single Nintendo console including some Japanese variations. My favourite console is the Super Nintendo due to both its games and the technical design of it. I also have a 3DO, Sega Dreamcast, and every PlayStation model to date.

Any console predating the use of HDMI that is capable of analogue RGB interfaces with an Open Source Scan Converter (OSSC). I've given a presentation with my friend, Misty on our experiences with improving the video quality of our older consoles at the 2018 Vancouver Retro Gaming Expo.

I'm not big on handhelds, but I do have a Game Boy, Game Boy Advance, Nintendo DS, and Nokia NGage; I am unsure to how I acquired the last one however.

My favourite video game of all time is Chrono Trigger. I have been trying to get my hands on every physical release in its original packaging for a number of years. So far I am missing the European DS release and the North American SNES version with the latter just being too expensive for me to just outright purchase.

I stream on Twitch, where I usually either try and complete console collections (currently the Sega Game Gear library), accomplish some speedrunning, or stream something obscure.
Contact
Before you contact me:

I get a lot of requests for assistance on projects and consulting gigs leading to me often turning them down. I only provide such services outside of normal business hours (Pacific time) and am selective about what I take on. For individuals, I am a lot more flexible about how I will be able to provide help but the time I am available still applies.

There are many who I share my family name with. I am not able to provide you with a vanity e-mail address as I do not have the services or support to make this possible.

E-mail is neither secure or private; do not have expectations of either and do not send me PGP-signed or encrypted e-mails. If you need to reach out to me securely, please contact me and we can likely arrange a conversation via Signal.

My primary language is English and I prefer to use that in all communications. I occasionally will participate in French-speaking forums, but only sparingly.

Lastly, my Internet presence does not necessitate the views that are held by my employer or any organization I may be participatory of.